As soon as I saw a blurb about Disrupting Thinking: Why How We Read Matters by Kylene Beers and Bob Probst, I knew it was going to be compelling and would likely speak to matters that concern me deeply; I ordered it immediately.  When I started reading, it felt like it was the book I had been waiting for!  Below are a few reasons why.
Beers and Probst …
articulate the problem.
In the Introduction, they report that a major impediment to "the deep learning we all want for students" … is apathy (9).  This lack of interest and engagement is exactly what I have been observing more and more in recent years.  The researchers (and those they interviewed) perfectly pinpointed what was causing my discouragement.  I found it disheartening, but also comforting to know others were seeing and lamenting the same indifference in their students … and searching for solutions!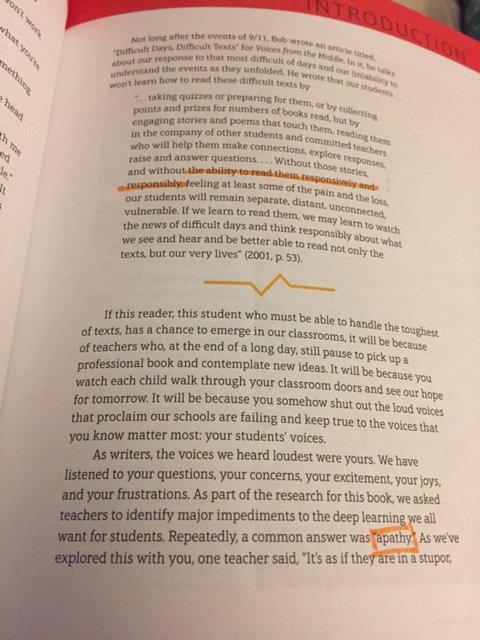 provide a simple but thorough framework.
To combat this problem, the seasoned educators charge us with building responsive, responsible, and compassionate readers.  I love these three words and ALL they encapsulate.  While discouraged by the apathy of many students, I do believe in the power of reading to change lives.  I felt I now had a new, more focused battle cry!  Beers and Probst went on to form this powerful charge into a simple, direct framework – Book, Head, Heart Reading.  Sold!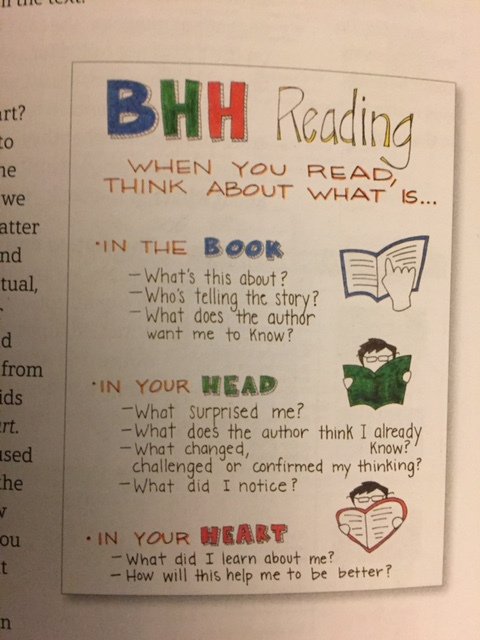 tell what didn't work.
The work of these two is so impactful, because they regularly visit classrooms, try things out, gain feedback from students, and report what does and doesn't work.  While experimenting with the process and working toward the framework, one student in a class asked, "Will you two be here all week?" (62)  Hilarious!  The reminder that even these master educators are constantly tweaking and present occasional lessons that bomb is a comfort for those of us who tend to ponder alternate careers each time things go awry!
model how to use the framework across grade levels.
What a benefit to see the framework modeled with first, fourth, and eighth graders and even with a college freshman.  As a middle school educator, I particularly enjoyed the 8th grade conversation and how one boy said, "It made my heart think."  Great reminder that even middle school boys (!!) enjoy making personal connections to the text, "taking things to heart," and having the chance to talk with others about their discoveries.
tackle topics head on.
The book ends with a call to evaluate many of our practices and to consider which truly benefit students and which need some disruption.  When addressing some common practices, such as the use of  whole class novels, Beers and Probst addressed them candidly and backed up their responses with research and practical observation.  I love this point:
… on average teachers spend six to eight weeks reading a novel with students.  Neither of us can think of one novel we want to read for eight weeks.  If we love the book, we want to devour it.  If we hate it, we want to quit reading or at least want the torture to end quickly (142).
Disrupting Thinking is book I was waiting for because it connected so many things I was observing, feeling, and pondering.  I am passionate about the power of reading to spark curiosity, to encourage questions, to build empathy, to transform lives; Disrupting Thinking helped me bring it all together and renewed my zest for building lifelong readers!
If you, too, are interested in creating responsive, responsible, and compassionate readers (and people!), then read this book immediately.  It will disrupt your thinking and give you much to ponder as you prepare for the young people that will be entrusted in your care this school year.
We argue that the ultimate goal of reading is to become more than we are at the moment; to become better than we are now; to become what we did not even know we wanted to become (59).
For the last several years, I have attended ALA Annual Conference.  A few reasons why it's worth the time and expense:
Hearing about new books
The whole conference is abuzz about upcoming releases!  From the exhibit floor, booths, and Book Buzz Stage to the publisher previews and special events, it's all about new books. Hearing about the upcoming titles allows you to start building your book order lists and to start imagining which readers will love each new book.  You may also be lucky enough to leave with a few ARCs and F&Gs to get a head start on your reading!
Celebrating literature
Annual Conference is where the authors and illustrators who won the year's literary awards are honored.  These gatherings are such uplifting celebrations of books, creators, and the impact literature makes on lives. For several years, I have had the honor of attending the Newbery Caldecott Wilder Banquet, and it is always an absolute joy.  Everyone is dressed up, the speeches are heartfelt and emotional, and each evening is unique.  It's librarian prom!  This year was no different.  I particularly enjoyed Javaka Steptoe's speech, his reference to Langston Hughes's poem Genius Child, and his message about sharing the truth from children.
For the first time this year, I attended the Coretta Scott King Awards Breakfast.  It was absolutely unforgettable.  It started with a phenomenal prayer and singing, and then preceded with stirring speeches from today's literary greats.  Luckily my friend April, a seasoned pro, came prepared with tissue!  I left with no make-up, but completely energized, invigorated, and so thankful to be somehow involved in the world of literature.  If only every day could start like that!
Connecting
The first time I attended the annual conference I only knew a handful of Texas librarians who were also in attendance.  At several of the events I didn't know a soul; but, I introduced myself, had some great conversations with new people, and joined committees.  Now, I am fortunate to  know librarians and people in the book business from all over the continent. Each summer I look forward to the conference as a time to reconnect and catch up.  And each year, I meet more lovely people and continue expanding my circle!