SNACKS
JILLICIOUS SNACKS
(AKA Picture Books)
Looking for a good picture book? Here are some of my favorites that can be enjoyed by readers of all ages:

(Note: These are a few favorites. I continue to spotlight other stand-out JILLICIOUS SNACKS in regular posts.)
** indicates picture books that I loved as a child and still love as an adult!
Alice the Fairy by David Shannon
Alice is a fairy-in-training trying to perfect her "magic."
Boss Baby by Marla Frazee
The baby has arrived, and it's clear he is completely in charge!
Bread and Jam for Frances** by Russell Hoban
All she wants to eat is bread and jam, so her mother gives Frances her wish.
Bubba and Beau Meet the Relatives by Kathi Appelt
Bubba and Beau are in for a surprise when all the kin show up in Bubbaville for a visit.
George and Martha** by James Marshall
The stories of the friendship between hippos George and Martha are full of lessons and laughter.
Julius, the Baby of the World by Kevin Henkes
Lilly is so excited about her little brother ….until he arrives.
Knuffle Bunny by Mo Willems
Trixie's adventure to the laundromat takes a terrible turn when she realizes she's left her beloved Knuffle Bunny behind.
Leo the Late Bloomer by Robert Kraus
His anxious parents wonder if Leo will ever bloom.

Library Lion by Michelle Knudsen
A lion visits the library and is allowed to stay as long as he follows the rules.
Make Way for Ducklings** by Robert McCloskey
Mr. and Mrs. Mallard love Boston's Public Garden, but is the city the best place to raise a family?
Officer Buckle's many safety tips become much more interesting when his dog Gloria helps present them.
The Polar Express by Chris Van Allsburg
A young boy takes a magical train ride to the North Pole.
The Relatives Came by Cynthia Rylant
What an experience it is when the relatives come!
Scaredy Squirrel by Melanie Watt
Scaredy Squirrel is afraid of everything, so he prefers to stay comfortably secure in his tree.
Skippyjon Jones by Judy Schaschner
Skippyjon is a Siamese cat but wishes he were a chihuahua.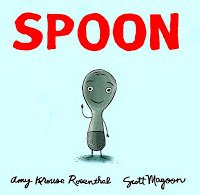 Spoon by Amy Krouse Rosenthal


Spoon is feeling a bit jealous of his friends Knife, Fork and Chopsticks because he cannot do what they can do.
Ferdinand would much prefer sitting under trees smelling flowers than butting heads with the other bulls.
Tacky the Penguin by Helen Lester
Tacky is not at all like the other penguins.
Thank You, Mr. Falker by Patricia Polacco
Ms. Polacco tells the autobiographical story of the teacher who helped her overcome her reading disability.