9.06.2010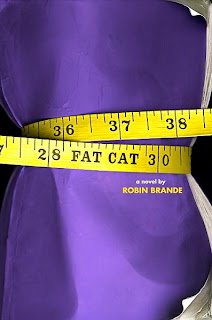 Fat Cat
by Robin Brande
Summary: Determined to win this year's top science prize and to get revenge on her former friend Matt, Cat takes on the ultimate challenge; she becomes the guinea pig in her own experiment. Overweight and a junk food lover, Cat decides to adopt a prehistoric lifestyle. She forgoes processed food & modern technology and scientifically documents the changes that occur in her body. Cat expects pounds to melt away, but she is completely surprised by other results, including the reaction of those around her.
Thoughts: I love, love, love Robin Brande! She creates strong, intelligent heroines that tackle big challenges, and she beautifully weaves science throughout her clever storylines. In Fat Cat, Ms. Brande once again creates realistic, complex, memorable characters that make you laugh, make you think, and steal your heart.
Posted by

Jill Bellomy
at 8:51 PM
1 comments


9.03.2010
Mockingjay
by Suzanne Collins
Summary: After a dramatic resuce at the end of Catching Fire (Book #2 of The Hunger Games Trilogy), Katniss is trying to adjust to life in District 13. She is utterly consumed with grief, regret, bewilderment, and constant worry about Peeta who was taken captive by the Capitol. In spite of her fragile state, the powers of District 13 are insisting that she become the Mockingjay – the ultimate symbol of the revolution and the lifeblood to the rebels. Katniss wrestles with taking on this role as well as simply learning to live after the traumatic experiences in the arenas and the devastation of her home.
Thoughts: I couldn't read it fast enough, and then was so sad when I turned the last page, knowing that this was the end! Author Suzanne Collins creates yet another captivating novel that very effectively brings the trilogy to an end. I will miss but not soon forget these complex, intriguing characters.
Be sure to first read Books 1 and 2 in the trilogy!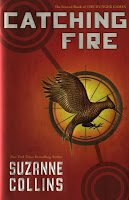 Posted by

Jill Bellomy
at 6:22 AM
0 comments


9.01.2010
by Nora Raleigh Baskin
Summary: Jason is autistic; he greatly struggles with social situations and making friends at school. He excels in creative writing, though, and becomes part of Storyboard, an online writing forum. On Storyboard, Jason feels comfortable sharing and interacting with other writers. When a girl named Rebecca starts responding to his stories, he is ecstatic. However, Jason's world is turned upside down when he has the opportunity to meet her at a Storyboard conference. If Rebecca meets him face-to-face, will she still want to continue their online relationship? Is it worth the risk?
Thoughts: Anything but Typical is an anything but typical story. The author does an outstanding job of allowing the reader into the autistic mind. Jason struggles with issues that are not a challenge for everyone; but, trying to make sense of the world, discovering where we fit in, and getting along with the people around us are issues we can all relate to, autistic or not. I fell in love with this kid and thoroughly enjoyed his story & unique point of view. I was thrilled that this title won the Schneider Family Award this year. Kudos to author Nora Raleigh Baskin for an honest depiction of autism and a truly engaging story.
Paperback cover: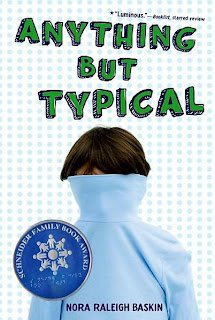 Posted by

Jill Bellomy
at 9:36 PM
0 comments