10.31.2010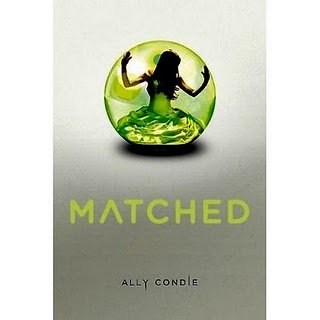 Matched
by Ally Condie


Summary: The Officials know best.

Cassia is thrilled with the Match they've selected for her – her best friend Xander.

But, then, for a split second, another Match flashes on the screen, the mysterious Ky.

Which one is truly Cassia's perfect Match?

And, how could this happen when the Officials never make mistakes?
Thoughts: I was captivated by this novel from the start (from the cover actually!). Author Ally Condie skillfully explores the idea of a "perfect" society in this compelling novel. Main character Cassia is the perfect daughter and citizen in this ideal world; but her confidence in the all-knowing government is shaken when she is presented with two matches and an intriguing gift from her grandfather. I found the characters very believeable and the storyline fascinating. The book reminds me of Lois Lowry's novel The Giver and is sure to be a hit with teen readers.
Click here for more info about Matched and author Ally Condie!
Posted by

Jill Bellomy
at 4:57 PM
0 comments


The Grimm Legacy
by Polly Shulman


Summary: When Elizabeth's teacher suggests she take a job at the library, she is excited about the chance to earn some money. But, she quickly learns that the New York Circulating Material Repository is no ordinary library.


Thoughts: Since I love anything about NYC and anything about libraries, I couldn't wait to read this new novel! It's a creative story that intertwines classic fairy tale elements with the modern Manhattan world. I loved the idea of a library that checks out magical objects and wish they were hiring! 🙂 Author Polly Shulman effectively blends fantasy, intrigue, mystery and a touch of romance in this delightful novel.
Click here to find out more about The Grimm Legacy and author Polly Shulman.
Posted by

Jill Bellomy
at 4:32 PM
0 comments


10.24.2010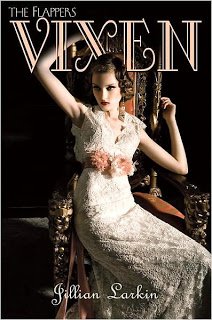 Vixen
by Jillian Larkin
Summary: It's the Roaring Twenties; the time of flappers, bobbed hair, speakeasies, jazz music, and dancing the Charleston until dawn. Gloria, her goody-two-shoes cousin Clara, and her scheming best friend Lorraine are swept away by the glitz and glamour of the times and nothing is ever going to be the same.
Thoughts: Gossip Girl meets the 1920s! What could be more fun! I loved this juicy, fast-paced novel by new author Jillian Larkin. Miss Larkin skillfully recreates the excitement and intrigue of the flapper lifestyle; I was completely pulled in and ready to donn my dress & learn the Charleston! The characters and storylines in Vixen are realistic, compelling, and full of surprises. I can hardly wait for the sequel, Ingenue! Fans of novels full of romance and drama, such as The Luxe: this new series is for you.
Notes: Last week I had the opportunity to attend a dinner with the author of this new series. What a treat it was to meet the lovely Jillian Larkin! She is such a delightful, accomplished lady… already a published author at 22! The dinner was hosted by Meg O'Brien of Random House at the hip, chic Dragonfly restaurant at Hotel ZaZa. It was the perfect setting to celebrate this new author and her exciting series.
Posted by

Jill Bellomy
at 8:36 PM
0 comments


10.14.2010
Three Black Swans
by Caroline B. Cooney
Summary: Cousins Missy and Claire have a striking family resemblance. When given an assignment to create a believable hoax, they pretend to be identical twins. But, what if the hoax is not a hoax?
Thoughts: I really enjoyed this latest thriller from Caroline Cooney. The idea of identity, the power of the global-reaching Internet, and the bonds of family are interestingly explored in this suspenseful, captivating novel. I also really enjoyed Ms. Cooney's They Never Came Back that was published earlier this year. This novel, which explores similar concepts, is also a fast-moving, engaging read.
Posted by

Jill Bellomy
at 3:52 PM
1 comments


Griff Carver, Safety Patrol
by Jim Krieg
Summary: Griff Carver believes in order, justice, and safe hallways. Armed with a safety patrol badge and a keen ability for sniffing out tomfoolery, Griff is going to do whatever it takes to clean up Rampart Middle School.
Thoughts: Hilarious! I loved the "hard-boiled detective" style of this mystery by first-time novelist Jim Krieg. It's a witty, clever book with snappy dialogue and humorous characters. I hope we will see much more of no-nonsense safety patrol officer Carver in future novels as he continues to boldly take on the riff-raff of Rampart Middle School!
Posted by

Jill Bellomy
at 3:51 PM
0 comments