11.23.2010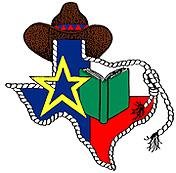 The new Texas Lone Star Reading List has been released! Yahooooo! The 2011 list is chock full of excellent young adult books to check out.


The Lone Star List is a list of recommended books for 6th, 7th, & 8th grade students for pleasure reading. Not every book on the list is right for every middle school student, but it's a good place to begin when looking for new books to try.


For other reading ideas, check out the new Tayshas List (recommended books for high school students) and the new Maverick List (graphic novel recommendations for middle and high school students).
Posted by

Jill Bellomy
at 3:12 PM
0 comments


11.07.2010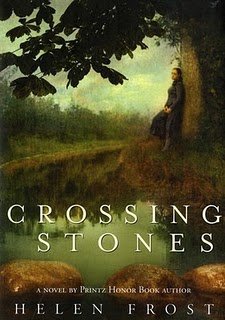 Crossing Stones
by Helen Frost
Summary: Muriel and Ollie Jorgensen and Emma and Frank Norman have lived across the river from each other on neighboring Michigan farms as long as any can remember. World War I hits and sends these four teens into a world of trouble and onto paths they never expected.
Thoughts: Helen Frost's free verse novels are truly remarkable. I am in awe of the way she eloquently weaves fully-developed characters and stories through her exquisite, crisp poetry. In Crossing Stones she uses different poetic forms. The words of lively, spunky Muriel are conveyed in free-form poems that flow across the page like a bubbling river; the budding romance of Emma and Ollie is chronicled in round, "cupped-hand" sonnets that emulate the stones within the river. Together these poems explore the uncertainty and devastation of war for those that enlist and those who stay behind. The story also explores the women's suffrage movement as well as the timeless themes of love, loss, heartache, family bonds, and hope. If you enjoy novels told through verse, historical fiction, or simply admire beautifully-crafted writing, read Crossing Stones.
Click here for more information about Helen Frost and her poetry.
Posted by

Jill Bellomy
at 6:49 PM
0 comments


Countdown
by Deborah Wiles
Summary: It's 1962. Franny is fighting with her best friend and struggling as a misunderstood middle child stuck between a saintly younger brother and a beautiful college-aged sister. But, these problems fade when the nation learns Russia has sent nuclear missiles to Cuba and the frightening threat of war hangs in the air.
Thoughts: What a captivating historical novel! I love the way the author creatively incorporates the photos, news clips, lyrics, speeches, and cartoons from the era throughout the book; it really gives the reader a feel for the times. Franny is a spunky, hilarious narrator who realistically tells this compelling story in a way that brings insight into the unsettling times and steals the reader's heart. She deals with the typical problems of a school-aged kid as well as the unique fears faced by Americans during the Cuban Missile Crisis. This is the first book in a trilogy, and I look forward to reading more in the upcoming volumes. If you are a fan of historical fiction, strong heroines, the 1960s, the JFK years, or just well-crafted stories, check out Countdown, Book One of The Sixties Trilogy.
Click here for more about Countdown and Deborah Wiles.
Posted by

Jill Bellomy
at 3:34 PM
0 comments


11.03.2010
Scumble
by Ingrid Law


Summary: When Ledger Kale turns thirteen and inherits his unique talent (known in the family as his "savvy"), it's not at all what he or anyone else expected. And, if Ledge can't learn to tame it, he and the family may be headed for destruction.
Thoughts: I LOVED Ms. Law's first novel Savvy, so I couldn't wait to dive into this companion. And, it didn't take long for me to fall head-over-heels for this one as well. Ledge, the cousin of Mibs from Savvy, is so endearing as is his tumultuous journey to come to terms with his savvy. I liked the focus on a male character and the eccentric family ranch where Ledge spent the summer. Ms. Law is a true wordsmith and paints lovely characters and storylines with her exquisite use of language. I can't wait to see what she does next!
Click here for more information about Scumble, Savvy and author Ingrid Law.
Posted by

Jill Bellomy
at 8:01 PM
0 comments


Are you over-vampired and tired of werewolves? Or, are you dying for more? Either way, these two novels offer fresh takes on the supernatural and are worth checking out!
Alex Van Helsing: Vampire Rising
by Jason Henderson
Summary: Alex is surprised to discover that he doesn't simply share the name of a legendary vampire hunter, he might actually become one too.
Thoughts: I admit I have been a little over-vampired. I was a huge Twilight fan when it was first published, but I've grown weary of the vampire mania. So, I wasn't that excited to read this new novel by first time novelist Jason Henderson. But, I heard a lot about it and decided to give it a try. Boy, am I glad I did! I loved it! Mr. Henderson's vampire storyline is fresh & new and filled with delicious literary & historical references. I just ate it up! It's a an exciting, suspense-filled adventure that is anything but a Twilight copycat. One review calls it a "modern-day spin of James Bond meets Dracula" which sums it up perfectly! Fans of Vladimir Tod, Alex Rider, Alfred Kropp, the Young Bond series, or anyone who likes good adventure, try this new series by Jason Henderson.
Click here for more info about the Alex Van Helsing series and author Jason Henderson!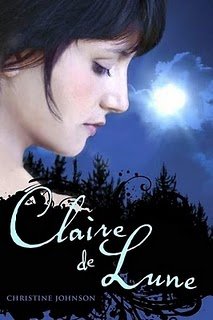 Claire de Lune
by Christine Johnson
Summary: Claire, a seemingly normal 16-year-old, is thrilled when she finally catches the attention of handsome, popular Matthew. But, she soon discovers a family secret and realizes she is anything but normal.
Thoughts: Again, I wasn't thrilled about another werewolf novel, but was pleasantly surprised with Claire de Lune. The mother-daughter relationship and the concepts of self-acceptance are explored in this suspenseful, intriguing fantasy. I really liked Matthew, the boy who captures Claire's heart, and liked that he is the son of Claire's mother's arch enemy. Lots of tension, intrigue, and romance. I am hoping for a sequel to this fun, alpha-female fantasy! 🙂
Click here for more details about Claire de Lune and author Christine Johnson.
Posted by

Jill Bellomy
at 7:34 PM
0 comments