6.29.2010
Heist Society

by Ally Carter


Summary: Kat's trying to escape the family "business". But when her father's life is in danger, she is pulled back into the art thieving world she worked so hard to escape.
Thoughts: I read an advance copy of this exciting novel last summer and thoroughly enjoyed it from beginning to end. The fun adventure is immersed in the art world, stars a spunky heroine, and blends travel, intrigue and romance. What more could you want?! 🙂 It reminded me of one of my favorite movies, The Thomas Crown Affair. I look forward to future installments of this new series from popular author Ally Carter.

Notes: In the spring, I had the opportunity to attend a dinner with Ms. Carter and several teen readers hosted by my friend & fellow librarian Mrs. Rose Brock. All of the girls (both young & old!) were big Ally Carter fans and enjoyed the time to chat with the author over a cozy dinner. The guests all received darling Heist Society shades like those on the front cover. Here I am in a Kat pose with the darling Ms. Carter. Luckily, she isn't scared off easily by crazed fans!
News: Heist Society will soon hit the big screen! Read more about the upcoming movie. I can't wait to see who will play Kat & Hale.
Finally, the 4th Gallagher Girls novel, Only the Good Spy Young, is out! Don't you just love that title? Get your hands on a copy today.
Visit Ms. Carter's site for info about the author, upcoming releases, news & events.

Posted by

Jill Bellomy
at 5:39 PM
0 comments


6.20.2010
by Jenny Han
Summary: Isabel ("Belly"), her mother, and brother spend every summer with her mother's best friend Susannah and Susannah's two sons. Belly's has had a crush on the oldest, Conrad, for years, but he's always thought of her like a little sister. But, this year Belly's blossoming into a lovely young woman and everyone is starting to notice.
Thoughts: I read this last summer, and it's the perfect beach read. Romance, drama, family problems, and realistic characters; what more do you need? 🙂 My only complaint was that I wasn't as crazy about moody Conrad as Belly was. I was more drawn to Adam, the leading man of Melissa Kantor's summer romance Girlfriend Material. However, The Summer I Turned Pretty is an engaging story, and I look forward to reading more about these believable characters in the recently-released sequel It's Not Summer Without You.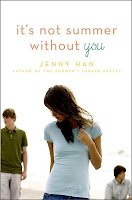 Posted by

Jill Bellomy
at 3:05 PM
0 comments