8.18.2013
Jillicious Snacks: Back to school means new crayons!
One of my favorite things about every new school year – as a student and now as an educator – is buying new school supplies. As a kiddo, the highlight was always the fresh, pristine, perfectly-sharpened crayons. I still love new crayons which is probably what led to the immediate love of these two selections: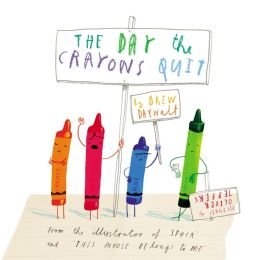 The Day the Crayons Quit
written by Drew Daywalt
illustrated by Oliver Jeffers
When Duncan opens his box of crayons, he finds a stack of letters from his angry crayons. Each color is upset about something, and their letters detailing their complaints are hilarious. Poor Blue is dwindling to nothing as he must constantly color in all the water and skies, Red is tired of working holidays, and Orange and Yellow are no longer speaking. In the end, Duncan, desperately wanting to color, finds a way to appease his disgruntled team.
I absolutely adore this new picture book! It is such a clever, charming story. Jeffers' endearing illustrations are the perfect compliment to Daywalt's witty text. Readers (of all ages!) will enjoy this back-to-school tale as they open their own fresh boxes of crayons.


And while on the subject of crayons, I must highlight my little back-to-school gift to myself!
YSL: Prêt-à-Porter: Coloring, Activity, and Inspiration Book
by Glenat
This book celebrates the 40 years of fashion created by the late Yves Saint Laurent. It is tons of fun! The pages are filled with cool fashion sketches to color and YSL-inspired activities to encourage creativity. It's a coloring book for grown-up girls! The perfect gift for the fashionistas in your life. 🙂
To those of you returning to school, best wishes for a great year. May the months ahead be filled with wonderful new supplies, books, and experiences! 🙂
Posted by

Jill Bellomy
at 7:47 PM