8.07.2014
Jillicious Reading: To All the Boys I've Loved Before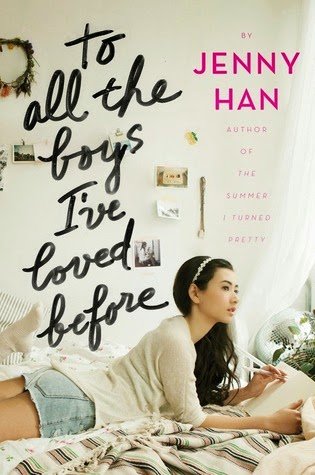 To All The Boys I've Loved Before
by Jenny Han

Summary: Lara Jean has never really dated. But, she has loved several boys who, unknowingly, have broken her heart. She writes to each, pouring out her soul in letters that she never mails; all notes are kept safely in a hatbox under her bed. Until one day the secret letters are mysteriously mailed. Suddenly, eyes that were never meant to see the letters are exactly the ones who receive them. Overnight Lara Jean's very private love life becomes very public, and she is forced to deal with the mess.

Thoughts: This is a delicious novel, and I just gobbled it up. It is a romance, but it also tackles important themes of family relationships, loss, and identity with the perfect combination of depth and humor.
Lara Jean is the middle daughter of three who lost their mother at a young age. The oldest, Margot, is going away to college and the family is dealing with this change. Skilled author Jenny Han explores the complicated relationships of the sisters – their strong bond as they care for each other and their father, but also the added pressures they put on one another in the absence of their mother.
The debacle of the mailed letters is a creative premise. It brings different characters into Lara Jean's life, forces her to face her feelings, and allows her to begin to realize who she really is. Han works it all adeptly, not bringing in too many past loves, and perfectly pacing the chaos with character development and self-discovery. The boys are believable, intriguing characters, full of personality and surprises. The youngest sister, Kitty, brings additional humor and heart to the story. The result is a delightful novel that explores what happens when one is faced with the truth and new possibilities.
Read To All the Boys I've Loved Before if you …
enjoyed Jenny Han's previous writing

like books by Stephanie Perkins or Lindsey Leavitt

have ever had a secret crush

have a sister

have a complicated family relationship

wonder what would happen if your private thoughts were made public! Gasp!
Click here to read more about the hilarious Jenny Han, To All the Boys I've Loved Before, and her other novels.
SPOILER ALERT: Ms. Han has already announced that there will be a sequel, P.S. I Still Love You. (Thank goodness!!) I can hardly wait, and, judging from the Good Reads page, I am not the only one. Many other fans are feeling equally tortured having to wait until 2015 for the story to continue! But don't visit the page until you've finished the first novel. 🙂