3.17.2014
Jillicious Healthy Bites: True Stories from the Holocaust
Stories from the Jewish Holocaust during WW II continue to captivate readers. As difficult as it is to read about the depths of human evil reached during this time, it is also incredibly inspiring to read of those who held onto hope in horrific circumstances and ultimately survived to tell their story. It is also so vitally important to read these narratives and remember how simply and subtly these dreadfully evil initiatives began.
Below are three 2013 releases, two nonfiction and one fiction based on a true story, that tell the hopeful, heroic stories that came from this time of persecution:
Odette's Secrets
by Maryann MacDonald
Odette's Secrets tells the story of a young Jewish girl living in Paris during the Nazi occupation. Her father joins the French army, her mother joins the Resistance, and Odette is sent to the French countryside for safety.
Throughout the frightening time, young Odette is both terrified and confused. She fears the soldiers, worries about her father, and runs from those who bully her for her yellow star. She also wonders about her Polish roots, her Jewish faith, and later the Christian values of the foster family that cares for her while she seeks refuge in the country. She gets used to silently observing, keeping secrets, and hiding in plain sight.
I never thought of what these young people must have endured as they tried to make sense of the terrifying world around them as well as their own identity. And what extremes their parents went to for their protection! This moving novel also shows what the survivors faced when they triumphed over their persecutors, but then tried to return to their homes and to their former lives.
Author Maryann MacDonald was deeply moved by Odette's story and asked her family permission to share her experience in a book for children. She ultimately chose to tell the story as a first person novel-in-verse instead of a factual biography to allow a more intimate view into the young poet-to-be's thoughts and feelings. The result is a accessible, personal narrative that immediately pulls the reader into Paris in 1942 and provides another perspective from this time.
Odette's Secrets is a selection on the 2014-2015 Texas Bluebonnet List.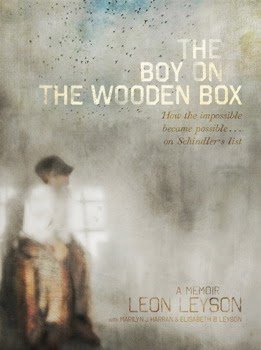 The Boy on the Wooden Box
by Leon Leyson

Leon Leyson was the youngest survivor on what became the world famous "Schindler's List." This memoir tells how Leyson's life went from a happy childhood to a terrible nightmare at the hand of the Nazis and their occupation of his Polish homeland. Leon's family was forced to move to the Krakow ghetto, but through determination, luck, and ultimately the attention of the man named Oskar Schindler, Leon, his parents and a few of his siblings' avoided placement in the horrific concentration camps.
Constructed from Leyson's personal notes and speeches, The Boy on the Wooden Box tells of how he survived in Schindler's factory with almost nothing to eat but holding onto hope and believing in Oskar Schindler, who became his lifelong hero. Leyson tale's is honest and reflective, but told without bitterness and hatred. It is a powerful, moving memoir that celebrates the risks taken and the perseverance necessary to survive during this time of persecution.
The Boy on the Wooden Box is a title on the 2014 Texas Lone Star Reading List.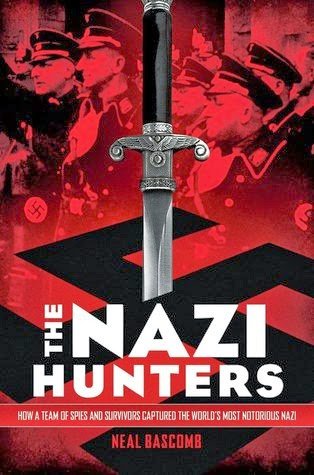 The Nazi Hunters: How a Team of Spies and Survivors Captured the World's Most Notorious Nazi
by Neal Bascomb

After WWII ended, one of the highest ranking Nazi officers, Adolf Eichmann, vanished. Believed to have eradicated over 700,000 Jews from Hungary and to have been responsible for millions of Jewish deaths, Eichmann was a prime war criminal to be brought to justice; but he had not been seen or heard of in years. Until a clue finally surfaces from a blind Argentinean man and his teenage daughter. Then the manhunt begins.

The Nazi Hunters tells the riveting true story of how the Eichmann case went from a desire to find the man to promising leads to dead ends to the forming of an elite team of Israeli spies to plan and execute an incredible capture. This team – all of whom had been directly affected somehow by Eichmann's crimes – would have to secretly enter Argentina, capture Eichmann, and smuggle him out of the country and return him safely to Israel so he could be brought to justice on Israeli soil.
Neal Bascomb has crafted a work of narrative nonfiction that expertly provides historical facts and reads like a spy novel. I was on the edge of my seat reading this book! It is truly fascinating. The author does an outstanding job of introducing the young, powerful Eichmann, later showing what he has become during his years in hiding and his views of his actions, and finally showing what an impact the time with Eichmann has on his captors. Bascomb also effectively weaves in the story of an Auschwitz survivor, Zeev Sapir. The reader meets him early in the book when he has an encounter with Eichmann; later Sapir has a chance to testify against Eichmann. It's quite powerful to see one survivor get to face his tormenter and get to share his story with the world. Photographs and documents are included throughout the book that add intrigue and authenticity to the captivating account.
This is a must-read for anyone interested in WWII, Jewish and Holocaust history, narrative nonfiction, and/or page-turning tales of spying and intrigue.
The Nazi Hunters is a title on the 2014 TAYSHAS Reading List.
Posted by

Jill Bellomy
at 8:58 PM