2.17.2009
Evernight
By Claudia Gray
Summary: Bianca is dreading her first day at the Evernight Academy. Her parents have taken positions as professors at this elite school, and she is forced to leave her hometown to come to the exclusive academy. Bianca feels like she will never fit in with the rich, glamorous, gifted Evernight students. But, then she meets Lucas, a fellow outsider, and her world is turned upside down. The two connect immediately; but does their relationship have a chance when both are hiding deep, dark secrets?
Thoughts: I was pulled into this book immediately. I loved the mysterious, boarding school setting and the plot twists and turns. This is a good choice for fans of vampire fiction who are looking for something beyond Twilight. I can't wait for the sequel!
Posted by

Jill Bellomy
at 7:36 PM
0 comments


2.01.2009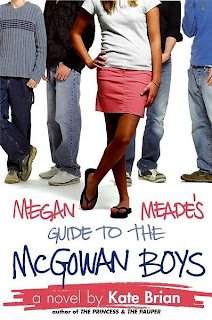 Megan Meade's Guide to the McGowan Boys
by Kate Brian
Summary: When army brat Megan's parents are restationed in South Korea, she doesn't want to go. She is tired of all the moving and doesn't want to leave the States. The alternative is moving in with her parents' good friends, the McGowans, and their seven sons. This is an intimidating undertaking for only-child Megan which only worsens when she meets the beautiful brothers. Life is turned upside down for both Megan and all the McGowans when she joins the family. Can Megan ever feel comfortable surrounded by all of this testosterone? Will they ever accept her in their home? And, what if she actually falls for one of these gorgeous guys?
Thoughts: Two of my library aides really enjoyed this book, so I have been wanting to read it for a while. I'm so glad it finally made its way to the top of my stack! I really liked these characters and the way Megan learned to stand up to the boys & feel comfortable in her own skin. I also loved Miller, the brother with Asperger's syndrome, that Megan made an effort to befriend. This is a fun, engaging piece of chick lit.
Posted by

Jill Bellomy
at 11:55 AM
0 comments