DESSERTS
JILLICIOUS DESSERTS:
(AKA Adult Books)
As a youth-focused librarian and longtime member of the Texas Lone Star Reading List Committee, I spend most of my time reading young adult literature. But, when I can, I love to indulge in a little adult reading. Here are some of my favorites:
(Note: These are few adult books I've enjoyed in recent years. I continue to spotlight adult favorites in regular posts.)
The Help by Kathryn Stockett
In 1962 Ole Miss graduate "Skeeter" Phelan returns to her hometown of Jackson, Mississippi and begins to record the stories of the African-American maids that work in and raise the children of the white households.
The Life and Times of the Thunderbolt Kid: A Memoir by Bill Bryson
Hilarious author Bill Bryson writes of growing up in Iowa in the 1950s, fondly remembering a different time.
My Reading Life by Pat Conroy
Beloved southern author Pat Conroy shares the books and the people that have made the biggest impact on his reading life.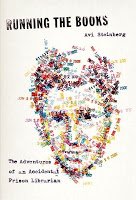 Running the Books by Avi Steinberg
Harvard grad and former freelance obituary writer Steinberg chronicles his experiences after unexpectedly taking a job as a librarian in a Boston prison.
The Sweetness at the Bottom of the Pie by Alan Bradley
Spunky, 11-year-old Flavia goes to work solving the case when her father is accused of murdering the man she found in the garden.
To Kill a Mockingbird by Harper Lee
Read by Sissy Spacek
The audiobook of Miss Spacek telling the beloved story of Scout, Jim, and Atticus Finch is a treasure and the perfect way to reread this outstanding classic.