12.15.2010
Little Blog on the Prairie
by Cathleen Davitt Bell
Summary: It's her mother's dream come true, but it's Gen's nightmare. A summer at living history camp where the visitors must live like pioneers of the 1890s! How can she possibly make it through the summer without electricity, plumbing, and an iPod? Well, cute, fellow camper Caleb might help as well as the cell phone she's snuck in!
Thoughts: I didn't expect to like this book nearly as much as I did! What a fun treat it turned out to be. The premise is original and actually quite believable. I really liked Gen and her family; their reaction to the entire experience was realistic and entertaining. The novel is full of humor, romance, and lots of plot twists & turns. If you've ever longed for a simpler life, loved The Little House on the Prairie books, or are just looking for an enjoyable, light-hearted read, check out Little Blog on the Prairie.
Click here to read more about author Cathleen Davitt Bell.
Posted by

Jill Bellomy
at 11:54 PM
0 comments


12.14.2010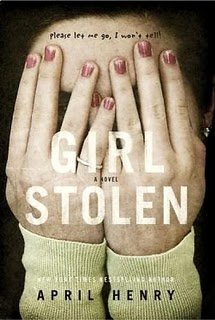 Girl Stolen
by April Henry
Summary: Cheyenne is very sick with pneumonia. Her step-mother runs into the pharmacy to get her medicine, and Cheyenne waits in the warm car. Suddenly, Cheyenne hears the door open but it's not her step-mom who gets in and puts the car into drive. But, Cheyenne has no idea who it is because she is blind.
Thoughts: Girl Stolen is a nail-biting, thrill ride! I enjoyed it from the reach-out-and-grab-you opening to the final page. The premise is original and the characters intriguing. I also liked the realistic portrayal of Cheyenne and the struggles of her blindness. If you're looking for a fast-paced, suspenseful novel, this is the perfect choice.
For more information about mystery writer April Henry, click here.
Posted by

Jill Bellomy
at 9:45 PM
0 comments


How to Survive Middle School
by Donna Gephart
Summary: David has dreams of being the next Jon Stewart…. that is IF he can survive middle school! His best friend ditched him, he's the new target of the school bully, and he just can't catch a break anywhere. David's only escapes are making original videos to post on You Tube and spending time with his hamster, Hammy. But, David's life is about to take a turn he never expected.
Thoughts: I thoroughly enjoyed How to Survive Middle School. David is a great character; his struggle and feelings as he tries to navigate his way through the challenges of middle school life are realistic and believable. His family and the other characters in the book are well-developed and interesting. Everything works well together here to create a funny, touching novel.
Click here for more information about How to Survive Middle School author Donna Gephart.
Posted by

Jill Bellomy
at 9:14 PM
1 comments