12.28.2008
Let it Snow: Three Holiday Romances
by John Green, Maureen Johnson & Lauren Myracle
Summary: Three popular authors each contribute a romance to this interconnected collection. A Christmas Eve snowstorm in a small, Southern town helps three teens discover (or rediscover) love. The three plots all come together at the end of the book and make for a warm, holiday read.
Thoughts: I loved this trio of stories! The characters were quirky, funny, and real. The authors each wrote with a unique voice, yet the three story lines all connected beautifully. I hope they write a sequel collection… maybe in time for Valentine's Day!
Posted by

Jill Bellomy
at 1:52 PM
1 comments


12.27.2008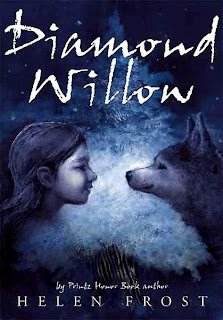 Summary: A series of diamond-shaped poems tell the story of Willow who lives in a remote area of Alaska. In effort to save a beloved sled dog, Willow embarks on a dangerous journey that tests her strength and ultimately reveals untold family secrets.
Thoughts: This book is amazing! I loved the way the author told the story so flawlessly and creatively through the diamond shapes. Don't let the cover deter you – this is beautiful book worth opening!
Posted by

Jill Bellomy
at 8:53 PM
0 comments


12.26.2008
by Susan Beth Pfeffer
Summary: In her book Life as We Knew It , Ms. Pfeffer told what happened in a rural town after an asteroid hit the moon and caused normal life to come to a halt. In this companion novel, the author describes how the same global disaster plays out in New York City.
Alex Morales, the seventeen-year-old son of a working class Puerto Rican family, is at home with his two younger sisters when the asteroid hits; their mother is at work, and their father is visiting Puerto Rico. Despite hope and fervent prayer, the parents do not return home. Alex is forced to do whatever it takes to care for his sisters in a terrifying catastrophe.
Thoughts: Surprisingly, I enjoyed this novel more than the first (which I also really liked!). The combination of the metropolitan setting, the absence of parents, and the family's religious faith intensified the story for me. I think those who liked the first novel as well as guy readers who didn't necessarily relate to the female character in Life as We Knew It will all be pulled into this companion tale.
Posted by

Jill Bellomy
at 5:21 PM
0 comments


by S. A. Bodeen
Summary: Ever since their world was destroyed by a nuclear attack, 15-year-old Eli and his family have lived in the Compound, a state-of-the-art bomb shelter built by his billionaire father. Despite having every comfort, Eli is haunted by the fact that his twin and his grandmother were left behind. After six years in the shelter, the food supply begins to diminish and several unanswered questions begin to surface. What is really going on in the Compound? And, will Eli figure it out before it's too late?
Thoughts: Whoa. The Compound is an intense, psychological thriller that kept me on the edge of my seat! The unique premise, the intriguing characters, and the many plot twists make for a compelling thrill-ride of a novel. I look forward to more novels by S. A. Bodeen!
Posted by

Jill Bellomy
at 4:40 PM
0 comments


I, Q: Independence Hall
by Roland Smith
Summary: When Quest's ("Q" for short) songwriting mom marries rock star Roger Tucker, he and new stepsister Angela join the duo on the road for a national concert tour. Add to this an old roadie named Boone, a dog, the paparazzi, mysterious characters, possible terrorists, magic tricks, and the CIA and you get one suspenseful, fast-paced adventure!
Thoughts: What a fun novel! I loved the twists, the turns & the James Bond references. I can't wait for the next volume in this exciting new series!
Posted by

Jill Bellomy
at 4:26 PM
0 comments