3.08.2016
5 Ways I Learned from the Caldecott Experience
I have not been posting for many months as I have been immersed in reading, rereading and preparing for the Caldecott discussions that took place in January (as well as keeping up with the madness of the middle school library!). After much sleep and an attempt to catch up on the rest of my life, I am returning to the blog! For the first post back, I must begin with some thoughts on the incredible Caldecott experience.
Serving on the 2016 Caldecott Selection Committee was the fulfillment of a longtime dream. As a young elementary school teacher, I vividly remember sharing the books bearing these special seals with my students. Together we enjoyed the stories, observed the art, and discussed what made each book special. So many times my readers and I were guilty of judging the book by its cover (I know! Gasp!), later to be delightfully surprised by what we discovered inside. Secretly, I pondered what it would be like to be part of THE committee that selected the winning books. Now, I have experienced this incredible privilege. And what an honor and fantastic learning experience it was.
At one of our first meetings, Viki Ash, our priority chair consultant, advised us to, "Come in as learners." This really struck me. I am a learner by nature, but this was a reminder that it was perfectly all right not to come in with all of the answers. That was not the expectation. Nor should it be your attitude! What a relief. Because I certainly didn't have all the answers. But, I did have a passion for children's literature and illustration, a dedication to the task I'd been given, a commitment to work hard, and a willingness to learn every step of the way! Here are five ways I learned and grew personally and professionally from this experience:
1. I learned from the books themselves.
I am amazed at all the information I learned this year about the world by reading the 2015 picture books! I learned about people who made a difference in their communities, about people who overcame incredible hardships to follow their dreams, and about people who are creating amazing art and music to bring beauty into the world. I learned about the ocean, animals, nature, and natural disasters. I laughed out loud at clever stories for the young (and the young at heart) and cried at stories of tragedy and loss. I experienced beautiful poetic verse and was moved to view the world around me in new ways. What a testament to the high quality of books that are being published every year for young readers and to the rich education that is available through books! And what a reminder of what picture books have to offer to readers of all ages.
2. I learned from my students.
This year I formed a Caldecott Club to solicit input from readers. Each month a brought a big stack books to our after school meeting; then, our club, a small group of committed, opinionated 😉 students, a few teachers, and my co-librarian Katherine, read, explored, observed, and shared their thoughts. My students are in grades 5 – 8, so they came at the task as readers, but also as art appreciators and critics. Most took it very seriously and had a lot to say about the books and the artwork. We didn't have a formal Mock Caldecott, but I gleaned a great deal from their observations and opinions at each meeting. They were thoughtful and articulate. They noticed things I did not. They often liked books I didn't think they would and vice versa. In short, they reminded me of how smart they are, how important it is that the books recognize this intelligence, and how delightful it is to experience literature through the eyes of younger readers!
A few members of the Caldecott Club diligently evaluating
3. I learned from my committee members.
In preparation for our discussions, I read, reread, observed, reread again, and took careful notes on the many, many eligible books. But, when we came together and began discussing each title, members of the committee pointed out things I NEVER noticed. The discussion of each book was greatly enriched because of what each member brought to the table. My fellow committee members broadened my experience of every title by noticing, questioning, and adding more. They challenged me to think differently and made me a deeper reader. I am forever thankful for what I learned from each member. This truly was the the deepest, richest, most exhausting, and most rewarding book discussion I have ever been a part of. And, I am a better literary professional because of it.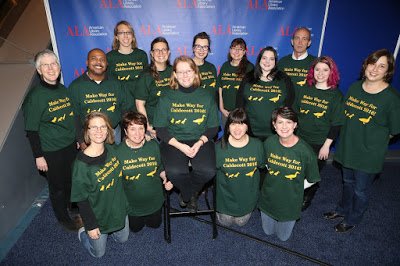 One of our very official photos
4. I learned from the process.
From Day One, the advice given to ALSC selection committee members is, "Trust the process." Our process is confidential, but I will say that I did come to trust this valuable system. Without going into specifics, I will say that for me "trusting the process" came to mean …
Thankfulness for a committee. As I mentioned above working with a committee of readers who are passionate about children's literature and committed to the task at hand means that we all have strong opinions. But, those strong opinions made us challenge each other and led to stronger, more thoughtful decisions in the end.
Thankfulness for the Caldecott Medal criteria. The specific criteria guided us throughout the process. We went back to them again and again, making sure we were staying true to our charge and that the books on the table were meeting or exceeding these criteria – not our personal criteria, the Caldecott criteria. They were our beacon and navigated us throughout the process.
Thankfulness for the system. There is a system in place for the nominating, discussing, and voting. And it works. Each year is different. There is a whole new bounty of amazing books to enjoy, explore, and evaluate. The selection committee brings new opinions and perspectives. There is passionate debate. But, the criteria and the system stay the same. And in the end, it all works and the most distinguished American picture book for children (and honors?) is named and children's literature is celebrated!

5. I learned the joy of celebrating literature!
This was more of a reminder…. a lesson I never grow weary of learning in new ways. Celebrating literature is what I love to do; it's why I became I librarian. But, this experience allowed me some new celebrations. First, we were able to join our wonderful committee chair Rachel Payne in making the early morning phone calls to the winning illustrators to share the good news before it was announced to the world. What an incredible experience! There were sleepy hellos, screams, yells, and many, many tears. At not yet 7 am., I had cried away most of my makeup (Why wasn't I wearing waterproof mascara??) and was absolutely exhausted! But it was soooo worth it!
Then, it was onto the 2016 ALA Youth Media Awards. I absolutely love these announcements each year. There is not much better than cheering for the authors, illustrators, and publishers of books that engage, entertain, and inspire readers. This year was so special, because I got to sit with my fellow committee members – and now dear friends – in our matching t-shirts 🙂 and cheer for the books we had selected. We were celebrating these amazing illustrators, their art and stories, as well as the work we had done together. We were also able to cheer for the other winning authors and illustrators (such a treat to see many of our books win additional awards!) and to cheer for the work of our fellow committees, the first time for many of us, truly understanding the time, work and commitment that went into their decisions.
After a celebratory breakfast, we went on the exhibit floor and got to visit the winning publishers' booths and put the Caldecott Medal and Honor stickers on the winning books!! Wow. So much fun! We were videoed and tweeted by Little, Brown the publisher of Finding Winnie, and it was even posted on CNN.com. What??!
— Little, Brown School (@lbschool) January 11, 2016
These celebrations are the big ones. They are exhilarating and rejuvenating. They allow us to cheer for the stars of children's literature and to celebrate the impact these books make on the lives of young readers. They also remind us of why we do what we do. But, the small, daily celebrations are just as important. My heart leaps as much (or more!) when a student comes running in after reading a book I've recommended, thanking me, and demanding another. 😉 And, that's why it's okay that some personal favorites are always left out of the big announcements and award lists. That's why it's such a privilege to be a librarian. I can continue to celebrate books all year long by making sure those favorites find their way into the hands of their readers in the months and years to come.
So …. Many, many boxes of books delivered to my doorstep. A year of reading, rereading, and note-taking. Hours and hours of intense, incredible book discussion. Several lessons learned. Fourteen new friends made. One gold medal winner, four honors. and a once-in-a-lifetime experience.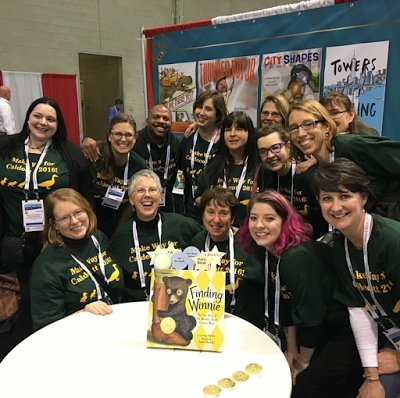 More …
For more about our selections and about spreading the love for your annual favorites, read this lovely guest post on the Calling Caldecott blog of The Horn Book website written by our committee chair, Rachel Payne.
For more about the Caldecott process, read this post by my fellow committee member, librarian and reviewer, the brilliant Karen MacPherson.
For a tug at your heart, watch this video from the lovely and talented Sophie Blackall about winning the medal. I've watched it again and again!
For an interview with Sophie B and the other winning illustrators, visit the one and only Mr. Schu's blog. Mr. Schu is the ultimate Book Celebrator!!
It just keeps getting better and better! Two very special treasures that recently arrived in the mail and will soon be added to my office walls! I came sprinting into the house after each arrival jumping and screaming and basically had to be peeled off the ceiling! 🙂
A letter TO ME from Kevin Henkes!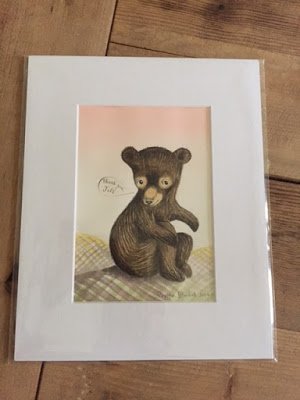 A painting FOR ME from Sophie Blackall with letter on the back!